Looking really good. I had a 60 Chrysler and have some interior (radios, chrome, dash pod, etc) and exterior chrome (bumper extensions, etc) left that I had bought and never used. Some may fit the Desoto, so if you have a need for something, suggest you ask the list. The only "Desoto-specific" parts that I have are some exceptional front chrome (eyebrow, etc) pieces from a 57-8, that I picked up at Desert Valley Auto Parts almost 40 years ago.

Good luck and keep us informed on your progress....

Larry

-----Original Message-----
From: REGIS BODNAR <arbie104@xxxxxxxxxxx>
To: L-FORWARDLOOK@xxxxxxxxxxxxx
Sent: Tue, Dec 22, 2020 8:18 pm
Subject: [FWDLK] I just joined the Forward Look
Hi to all,
My name is Regis Bodnar and I live in Greensburg, PA (the land before time). I have restored 2 non-forward look vehicles in the past (66 Dodge Polara Hardtop and 81 Imperial Coupe) and have been working on a 60 DeSoto Adventurer 2 door hardtop since 2014. I'm down to blocking the body preparing for painting, then I will need to get the interior completed. I belong to the National DeSoto Club and am currently the treasurer and club store operator. I retired at the beginning of 2020, so now I generally work on some part of the DeSoto every day. The blocking, priming, sanding, etc. is the most boring part of the last 6 years , but since I want the car to be an almost perfect restoration, I guess I have to soldier on this tedious task of blocking, etc.
The photo below shows the DeSoto loaded on a trailer in 2014, preparing to bring it home. The photo that is marked final product is what I want the car to look like when completed.
Regis Bodnar, Treasurer, NDC #5647
104 Betsy Court
Greensburg, PA 15601
724-433-2645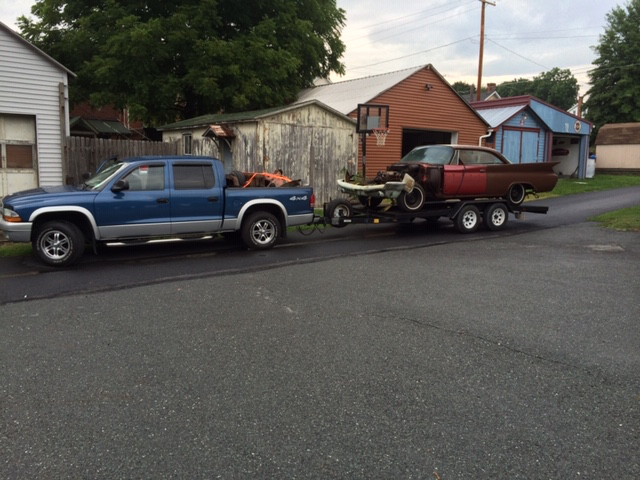 *************************************************************
*************************************************************
To unsubscribe or set your subscription options, please go to
http://lists.psu.edu/cgi-bin/wa?SUBED1=l-forwardlook&A=1
Help The Forward Look with every Amazon purchase by clicking here!
Help the Forward Look with every eBay purchase by starting your search here!
---