For what it's worth, here's a wiring diagram that shows the interaction of the brake light switch with the turn signal switch.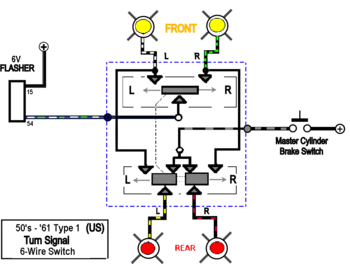 On Aug 24, 2020, at 4:57 PM, Dan Morton <dan@xxxxxxxxxxxxxx> wrote:




The headlight switch could be implicated in the tail lights (and parking lights), but not the stop lights. The suggestion to bypass the switch on the master cylinder is a good one. The fact that the turn signals work - which will interrupt the brake light on the turning side - suggests the turn signal switch is OK.

On Aug 24, 2020, at 4:49 PM, John Schutte <mr_mrs_schutte@xxxxxxxxxxx> wrote:


*************************************************************
To unsubscribe or set your subscription options, please go to
http://lists.psu.edu/cgi-bin/wa?SUBED1=l-forwardlook&A=1
Help The Forward Look with every Amazon purchase by clicking here!
Help the Forward Look with every eBay purchase by starting your search here!