TULSA OR BUST! T-Shirts
Glenn Barratt from New Zealand is selling MoPar Tulsarama "Tulsa Or Bust" black T-shirts.
Brand new, black MoPar short-sleeved quality T-shirt. Front features picture similar to parts boxes used in packaging parts for 1955-1961 MoPar parts. Rear features the long obsolete MoPar ForwardLook "Flying Double Delta" double boomerang image, with text below that reads "TULSA OR BUST 1957-2007". Limited run of these black commemorative T shirts available in Medium and Large. Secure your souvenir T shirt of this once in a lifetime event.
US $22 each. Buyer pays shipping of US $8.30 for 1 shirt or US $11.70 for 2 shirts sent international airmail. Allow 4 to 10 days for delivery. Accept Paypal or checks sent by mail. (Checks will require 30 working days to clear, so may not be viable this close to the event.)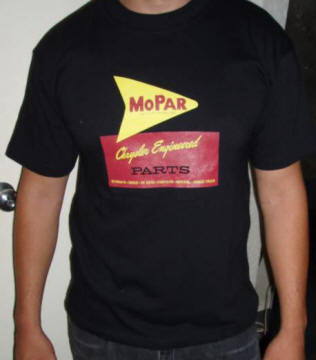 For questions, please contact Glenn at: FURY@xtra.co.nz
A donation of US$1 will go directly to the FWDLK website for each and every shirt sold through this ad.
One Shirt - $22 + $8.30 shipping
Two Shirts - $44 + 11.70 shipping

| | |
| --- | --- |
| Select Size - Shirt ONE | |
| Select Size - Shirt TWO | |