A SPECIAL OPPORTUNITY...
To commemorate the unburying of the Tulsarama Plymouth, we are having a special run of 1957 Plymouth bracelets made These are based on the extremely rare 1958 Plymouth charm bracelets.
I have recently commissioned the same local handcrafted jewelry artist to create a special 1957 Plymouth edition to celebrate Tulsa. The 1958 Plymouth bracelets were stunning, and these are sure to be as well.
The handcrafted bracelets are cast in .999 Sterling Silver with a matching Sterling link bracelet. (Note: If you are interested in a 14k/24k gold or platinum version of this bracelet, please contact me and I will ask the jeweler for the current pricing in your choice of precious metals.)
An ordering link is at the bottom of this page.
PLEASE NOTE: I do not have photos of the 1957 version of the bracelet
at this time. The 1958 version is shown for reference. I will upload pictures of the 1957 version as soon as they are available.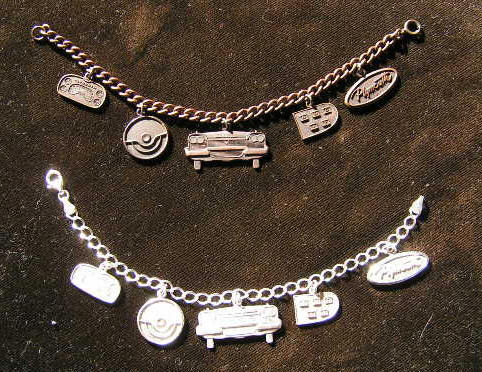 Original brass bracelet (top) with Sterling Silver reproduction (bottom). Sorry, the sunlight on the silver
washed out the bottom brracelet a bit. Please see the detail photos below.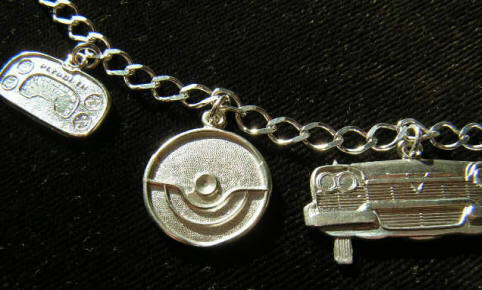 Detail view of the instrument cluster, steering wheel, and Plymouth front.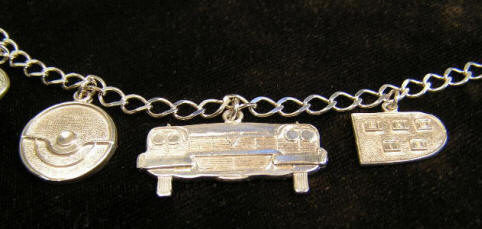 Detail view of the steering wheel, Plymouth front, and pushbutton shifter. Note

Detail view of the Plymouth front, pushbutton shifter, and Plymouth oval logo.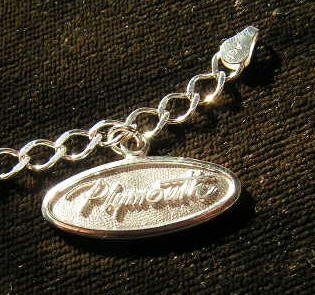 Detail view of the Plymouth oval logo and clasp.
As an aside, I don't make money on these. The cost fluctuates with the price of silver, and they currently cost me $90.95 each, to which I add about $7.50 to the cost to help cover the costs of the casting molds.