I never tried to decipher the casting date, Dan, BUT DeSoto used the "letter I" instead of the "number 1" for all 1957 DeSotos, but it is definitely intended to be a "one".  SO, the motor number is S26-one-nine-zero-four-seven, regardless of the shape of the figures.
BTW, S26-18702 (with a number very close to yours) was installed in a car built on 3-25-1957. 
Ed Petrus
From: Forward Look Mopar Discussion List [mailto:L-FORWARDLOOK@xxxxxxxxxxxxx] On Behalf Of Daniel Davids
Sent: Sunday, January 07, 2018 10:59 PM
To: L-FORWARDLOOK@xxxxxxxxxxxxx
Subject: [FWDLK] 57 341 Block Casting Date Question
Hello, fellow Forward Lookers.
I'm trying to decipher the casting date on a 57 DeSoto block.
It is stamped at the front top with S26-I9047 (an I, not a 1). So it's a 1957 341 hemi.
On the driver's side next to the valley cover are the cast digits 3 27 6
Are these the block casting date numbers? How to decipher? If they aren't indicative of the casting date, where is date on block?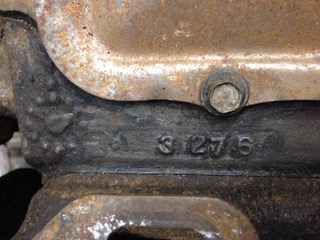 *************************************************************
To unsubscribe or set your subscription options, please go to
http://lists.psu.edu/cgi-bin/wa?SUBED1=l-forwardlook&A=1
Help The Forward Look with every Amazon purchase by clicking here!
Help the Forward Look with every eBay purchase by starting your search here!